Game one is in the books and boy was it a tough pill to swallow.  Going in against one of the best defenses in the NFL, not many people were giving the New York Giants a chance to win this game.  In past years, this game would have probably been a blowout.  The Giants had every opportunity to steal this game and start the season off 1-0, but they just couldn't make enough plays to overcome their horrible Right Tackle.  The Giants lost, in a close battle, 20-15.
It's not often that a team can pin a loss on one player, by my oh my, Ereck Flowers sure tried his damnedest to make himself a prime candidate.  Listen, I am not saying the other lineman didn't have a hand in this loss.  At one point or another, every single lineman on the Giants newly constructed Offensive Line got their poop pushed in.  There was literally no team that would have been worse to start off the season against than the Jacksonville Jaguars.  The Giants weren't the first team that has had troubles with that front 7, nor will they be the last (can't stress that point enough).  Having said all that, Flowers alone gave up a sack (could have had at least 3 more), countless pressures that derailed plays, a holding penalty and a tripping penalty (both on the same FIRST DRIVE OF THE SEASON).  That is flat out BAD.
The Giants need to bring someone else in immediately.  I don't care how talented they actually are, but you literally can't get much worse than what we saw on Sunday.  All this team needs is an below average RT and this offense will be a Top 10 offense.  What we currently have out there is WELL below average, and that is putting it in about the nicest way I can say here on the internet.  If they do not make this switch, for the first time that I can remember in all my time watching football, a Right Tackle might torpedo the season.
On the other hand, it was not all doom and gloom.
The Offense
For the most part, I thought Eli Manning played well.  His timing with Odell was a half-a-second off on 2 bombs that could have won the game for the Giants (on the deep bomb, Odell was contacted way down the field and this threw the timing off by just enough to cause the incomplete pass).  This was one of the reasons why I advocated for Odell to, at least, play in 1-2 series during the preseason.  Practice timing is a bit different that live game speed, and that tenth of a second is the difference between a long TD and an incomplete pass.  Outside of that, Eli had a tipped pass that was returned for a TD, and the rest was really good to see.  Thought he made all of the necessary throws and had plenty of zip on the ball.
Saquon showed everybody why he was the #2 pick.  He was bottled up for most of the day, then he unleashed this beaut on the NFL world:
So damn humble after the score too.  God, you just love to see that.  Barkley is a threat to do that on every single play, and us Giant fans are going to love watching this kid every Sunday.  The Giants didn't use Barkley as much in the passing game as I would have thought, but I think that will change.  Get the ball into this kids hands as often as you can!
OBJ (aka Odell) looked absolutely no worse for wear coming off a serious ankle injury in Week 5 last year.  He was getting open on just about every play, making tough catches, getting down the field, and looking as quick as ever.  Didn't see any hesitation in his game.  This was all done against the best CB duo in the NFL, so to put up 11 catches and 111 yards is no small feat in his first game back.  That was with a couple of near misses as well.  As I said with Barkley, get the ball to OBJ as often as you can!
The offensive line is very much a work in progress.  Hernandez and Solder had some highlights and lowlights.  Halapio at Center didn't stick out, and I think that was good enough against that defense.  I already made my thoughts known on Flowers. I thought Omamhe did okay (minus the tipped pass INT where his man was the guy who caused the tip after beating Omamhe).  This unit will get better the more they play together and against lesser competition.  They will get better even faster once they cut bait with Flowers.  I think, by now, I have made my thoughts on him crystal clear, no? If not, come see me and bring a bottle of your finest Tequila.
The Defense
Lot to like from the defense.  Sure, once Leonard Fournette went out, the defense magically looked better.  If you are going to put stock into that though, you must also put stock into the Giants missing their best defender/pass rusher/edge setter Olivier Vernon, who missed the whole contest with a High Ankle Sprain.  So, let's call that a wash.
The Defensive Line flashed and we saw some nice plays from B.J. Hill, Damon "Snacks" Harrison, and Dalvin Tomlinson.  Really like Hill's burst and the dude is just a load to handle in there.  Snacks was Snacks.  Good luck running up the middle on these monstrosities.
The Linebackers didn't particularly stand out, for better or worse.  Like what I saw from the other 3rd-round pick, Lorenzo Carter.  He made several plays out there that had you drooling about this kid's future.  Kareem Martin also had a couple of nice plays including a sack that he came up the middle for.
The secondary was a pleasant surprise, but considering the opponent, I will not put TOO much stock into that.  Blake Bortles is, well, Blake Bortles.  The Jaguars were also missing their top WR Marquise Lee, who is done for the season.  I say that to say that I was still very impressed with the Cornerbacks.  Eli Apple had probably his best game of his Giant career, and despite being targeted often by Bortles, Apple more than held his own.  Jackrabbit (aka Janoris Jenkins) had a pick, and it could have been two had he not let one slip through his hands.  The guy looks to be back in All-Pro shape.  Curtis Riley (Free Safety) didn't stand out in a bad way, and I think that is good.  Would like to see more out of Landon Collins, as he didn't stand out either, which is not what you want to see out of your stars.
Specials
Special Teams were very up and down.  Rosas continued hes nice stretch of kicking, knocking down all of his FGs in bad weather.  Riley Dixon's punting debut for the Giants wasn't great IMO.  I'll give him some more time, but he has been very unimpressive so far.
Then you have this dummy Kaelin Clay.  Come the hell on man!  You simply cannot take a chance with under a minute to go on a punt like that.  You fumbled away any chance the Giants had to make a comeback for what reason?  There was no space to be had!  You damn near may have muffed your way off this team, and if not, the rope is dangerously small.
Mr. Glass-Half-Full Take:
I, like most Giant fans, knew this game was going to be a tough battle.  Without knowing the state of the offense, I was legit worried that this game was going to be really ugly.  The New York Giants came out and looked more than competent against one of the best defenses (and teams) in the AFC, so they should be commended for that.  The game was right there for the taking, and the Giants simply couldn't make the one necessary play it took for them to come out on top.  Given the competition, and how most of our top players performed, the Giants and their fans should have their heads held up high.
This team needs to go into Dallas now and beat an inferior team.  Dallas looked like straight doo-doo yesterday, and this is not an overreaction because they looked the same way last year.  The defense should be able to keep Dallas' offense in check.  Stop Zeke, and we're sitting pretty.  The offense should have a lot easier of a time against the Dallas pass rush Sunday Night, and that could make all the difference in the world.
Now let us go down to Jurrah's World and even up our record at 1-1.  I don't want to be a squid and say this is a "must-win", but looking at the schedule, this is as close to a must-win as you can get for a team's 2nd game.  We need to taste that W like my boy Jameis Winston was talkin' about.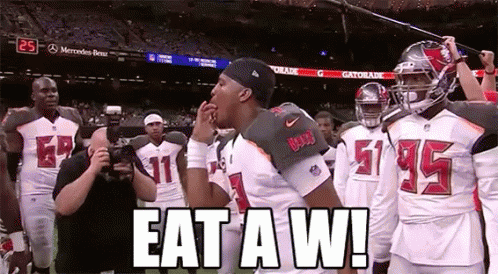 Signing Out,
Mr. Glass-Half-Full
Go Big Blue.