The New York Rangers finished up their 2018 season last week with a triumphant victory against their rival, the Pittsburgh Penguins. The Blueshirts battled all game long, much like they did all season, and ended the season on a high note. Ryan Strome, who played very well since being acquired mid-season by the Rangers, ended the game in OT. The Penguins were still going to the playoffs and the Rangers may have cost themselves a better chance at a Top 3 draft pick, but such is life in Rangerland lately.
The team has now wrapped up Year Two of their self-imposed rebuild. They finished up the season with 78 points, which, is about what most would have expected out of the team to start the year (7 fewest amount of points in the league). Given that the team sold off players like Kevin Hayes and Zucc (still hurting from this and the Stars are my team for the NHL Playoffs), the results matched the talent level that was left over. The team swooned after the trade deadline, and as a Ranger fan, you shouldn't be too mad about that.
More often than not, this team played with a ton of effort and passion. They made every team they played earn the W, even when they were badly outclassed talent-wise. Coach Quinn seemed to push all the right buttons and that is exactly why the Rangers brought in the young college coach from Boston University. He developed some of the young talent on this team and he should be commended for his work.
We saw young players like Pavel Buchnevich, Tony DeAngelo, Lias Andersson and Filip Chytil flash a bunch this season and respond to the tough love that Quinn preached. We saw Zibby (Mika Zibanejad; screw you for making me spell his name) take the next step in his game to become a full-fledged 1C for the Rangers. For people who are not familiar with the term 1C, that means he is going to be a legit 1st Line Center for the Rangers for years to come. Teams cannot start a rebuild/team without finding a top-notch 1C, and the Rangers have one at a low, affordable price.
Brady Skjei had an up and down season, but as a 25-year-old, he has shown signs of maturing and hopefully puts it all together next year. Next year will be a big year for Brady to show what he is really made of. If he can have consistency beside him next year, I think his game will take off. We also saw some positive things out of Brett Howden and Libor Hajek (both acquired from Tampa Bay last year), but injuries caused the latter to have a very short cup of joe with the big club. If Tampa Bay wins the Stanley Cup this year, the Rangers will get another 1st Round pick out of that trade on top of Howden and Hajek. Everyone aboard the Lightning and Stars bandwagons!
Jeff Gorton will have a tough decision to make with Chris Kreider going forward. The 28-year-old winger tied a career high in goals this year with 28. He is one of the few leaders left on this team and is a goal scorer that always flirts with 30 goals (but can never actually get over that damn hump. It's quite infuriating). CK is a Ranger through and through, and I would love to see him be don Blueshirt for life, but, he is going into the final year of his contract and is closer to the end of his prime than the beginning of it. Playing as fast and reckless as he does at times, you can see a not-so-shiny ending to his career in his mid-thirties. Gorton will have to decide on whether he wants to resign Kreider long-term, or see what he can get for the big forward in a trade that should bring back a decent haul. Personally, I would love to see CK locked up and given the C for the next 4 years, but I can live with a trade if it brings back a good package.
Lastly, I wanted to touch on our sweet King, Henrik Lundqvist. Hank had himself a tough year and I bet at points he was regretting saying he wanted to stay on board for this rebuild. I admire and love the guy more than any other player in my Ranger fandom history, but you can tell this season took its toll on Hank
"It's been tough," Lundqvist said. "Draining."
You have to feel for the guy. The Rangers had the nerve to trade the guy's BFF in Zucc, which led to this "interview"….
Hank didn't end up having his best statistical season, and who could blame him with the defense that was often deployed in front of him. Alexander Georgiev, another bright spot in this long season, ended up making 30 starts and playing well while the team rested/saved Hank. This was smart move, as the Rangers need to save as much mileage as they can on Lundqvist's tires if they expect to get this guy a Cup in a Rangers uniform. Time is running out.
All in all, when the Ranger fans look back on this 2018-'19 season, we hope that we can point back to it as a big stepping stone season. Year Two of the rebuild had its peaks and valleys, and the hope is that the young Blueshirts will be better because of this. It was a learning season for many players. Here's to hoping this is the last timer we see our beloved Rangers at the bottom of the standings for a long time.
Mr. Glass-Half-Full's Take:
To me, this season was a success. However small that success was, I do think the arrow is starting to point back up for the New York Rangers. Not many people will see it that way, but this is what you come to me for.
We saw our most important youngsters develop as well as our coach. Just about every prospect that we wanted to see have playing time at least was able to get their feet wet. Some excelled more than others, but everyone had a good learning experience and now knows what they have to do to get better.
The team went through all of this without truly bottoming out and losing too much confidence. With another year of development and upward trajectory, this young core should make up a good portion of what the Blueshirts will look like going forward. They have young talents in Vitali Kravstov (last year's top pick) and Igor Shestyorkin coming over from Russia sooner rather than later to infuse more talent into this lineup. K'Andre Miller showed some really good things at Wisconsin his Freshman year and will be one of the better defenseman in the nation to start next year.
Things are looking up folks. With the NHL Draft Lottery going tonight, the Rangers hold a 7.5% chance to get the #1 pick.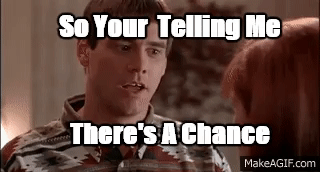 They hold a 15% chance of getting the #2 pick, which would put them in contention to get the next potential super star behind Jack Hughes, Kaapo Kakko from Finland. Bring out whatever superstitious luck charms you have tonight people. We need all the luck we can get. The Rangers do not typically fair well in these lottery situations, so c'mon Hockey Gods! Give us a break! One time!
After we get the #1 or #2 pick, we will expedite the rebuild by signing stud winger Artemi Panarin and we're sitting prime. Let us all speak it into existence people. I am done with losing and rebuilding. It all starts tonight.
Good Luck and Godspeed,
Mr. Glass-Half-Full
Go Blueshirts.