The Mets can't be accused for not trying. As bad as things seem right now, I assure you Met fans, they are trying! They are trying to make any and every Met fan hate, not only the New York Mets, but the entire sport of baseball.
I am already disgusted at the sight of a baseball bat, and its not even June. Usually the Mets like to wait until June/July to make me feel this way. Not this year folks!
They expedited the process by selling off their best hitting prospect and, at worst, their 2nd best pitching prospect for a closer that can't close games, because the team never has any leads, and the soon-to-be 37-year old Robbie Cano. The latter has come out like gangbusters this year batting .245 with a whopping 3 homers and 13 RBI in 42 games. Their usual cast of veteran offseason acquisitions are off to their typical starts:
Jedd Lowrie: 0 games played. 2 injuries. Great ratio.
Wilson Ramos: -0.4 WAR; .238 average w/ 2 homers and 24 RBI
Jeurys Familia: Welcome back! -0.2 WAR with a 5.52 ERA; 7.2 Walks per 9 innings
Justin Wilson: -0.1 WAR with a 4.82 ERA; already on his 2nd injury (maybe it's still his first. lost track)
Oh, and BREAKING NEWS folks! As, I began writing this article, Yoenis Cespedes who has played a grand total of 119 games for the Mets over the last 3 seasons and was recovering from double heel surgery, just fractured both of his ankles today on his ranch. ON HIS RANCH! LOL!
How does one fracture both ankles on a farm ranch you might be asking? I would have guessed that he was fucking around with some horses or some shit, but no, the story is WAY better than that. Cespedes "violently fell" by stepping into the hole.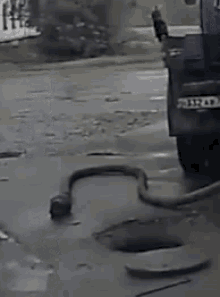 I used to explain this kind of shit away by saying, you can't make this up. At this point, you really can make it up. Anything negative story one could concoct about a Mets player or the organization is in play. I shit you not, you could not tell me anything that I wouldn't believe.
At this point, why would ANY Free Agent want to come play for the New York Mets? Why would you want to deal with this organization and it's owners? Why deal with the media pressure? Why deal with a team that is clearly cursed? Every single free agent they bring in either gets hurt or is sapped of all of his talents like the players from Space Jam.
Brodie Van Wagenen had the balls to do a his presser today. I give him credit because he was facing the firing squad (he did, after all, assemble this product). All he managed to do was dig his hole deeper though by backing his incompetent manager. Hey, the Mets got the right man to sell their shit product though. I would not put it past the Wilpons if they thought that BVW would be a great person to sell any kind of cheap plan they put together to this fan base.
Brodie tried! "Come get us" he said. "We will win now" he proclaimed. WELP! This team is now 20-25 coming off getting swept out of Miami. A Marlins team, mind you, that is THE worst team in the league, and might end up going down as the worst team of all-time when its said and done. Now Brodie wants to tell us that the team and organization stands behind the Mickey Callaway? Well, the team certainly didn't show it last weekend.
In the end, we are right back where we started folks. Another summer of empty seats at Citi Field. Another lost season. Now, let the talks begin about sparking up the old rebuild. The New York Giants ran into the same issue, but at least they woke up before it was too late.
Will the Mets follow suit and break this thing down? We should find out in the next few weeks. Yipeee!!!!!
Mr. Glass-Half-Full-Take:
I tried to buy-in people. Read back, you can find evidence of it. I tried to buyin to what Brodie and Co. were selling me this year. I thought the vets they brought in were better than what they brought in last year. I thought the pitching staff would pick up right where it left off last year. I thought a new front office with different scouting and more analytics would change things.
When it comes down to it, there is still always one thing that remains the same. The Wilpons. Whether they are still paying for the bad karma revolving around Madoff, or because they simply cannot stop meddling with the team when they clearly have the worst baseball instincts money can buy, everything the Wilpon's touch turns to complete dog shit.
When will it change? Will it change? I don't know the answer to these questions. What I do know is, I am finding it easier and easier to not catch every Met game on TV. I am finding it easier to not spend another dollar to go to Citi Field.
The Mets have a week to turn things around before they head out on a West Coast trip. If things don't turn around, starting with this series against the Washington Nationals, we could be looking at a full-on catastrophe. If that comes to be, just keep Mickey. Maybe we can salvage one good thing out of this season and get a Top 5 pick!
That's about as optimistic as I can get folks. Good luck to all the Mets fans out there and Godspeed. This could get ugly.
Dueces,
Mr. Glass-Half-Full
LGM?