Week One is in the books for the New York Giants, and BOY do they have some things to work on. Even as a Glass-Half-Full type of guy, I did not expect to go into Dallas, Week One, and come out with a victory. However, I also did not want to see a blowout either, and that's exactly what us Giant fans got.
Listen, we have to remain calm here folks. We, as fans, need to keep our composure.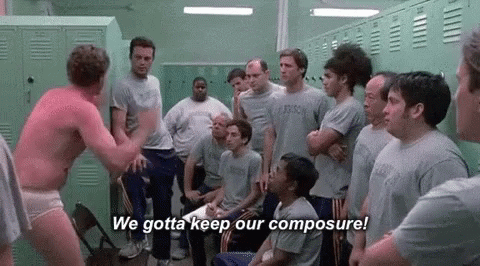 The Dallas Cowboys, as much as everyone hates to admit, are a VERY good football team. There is a reason why pundits are picking them to be a dark-horse Super Bowl contender. Their defense is top-notch, their offensive is efficient, and they boast THE best offensive line in the game.
The Giants worst fears were realized last night with an inexperienced secondary and non-existent pass rush. The Cowboys, quite literally, might have been the worst possible Game One matchup for this New York Giant defense. I do not think I would have picked any one of the Giants Front Four players to win their matchup against the opposing Offensive Lineman. The Giant pass rush was outmatched and outclassed. Nobody should have expected that to play out any differently.
On the bright side, at least the run defense played well and kept Zeke in check? Little victories my friends. That's the business I am in right now.
Deandre Baker looked like a rookie who had missed all of the Preseason. He was burned a couple of times and looked a step slow. No reason to panic there just yet. For some odd reason, James Bettcher thought it was a good idea to keep Antonio Hamilton out there. Julian Love and Corey Ballentine rode the pine while the lesser talented Hamilton was getting picked on play after play.
All of the secondary woes were exasperated because Dak Prescott had about twenty seconds to find an open receiver on each play. This included plays that the Giants blitzed on, which left our young Cornerbacks on an island for said twenty seconds.
I talked about this defense being an issue and having to go through lumps. We saw all that is wrong with this defense play out Week 1. Let's hope they bounce back and learn from their mistakes. Playing the Buffalo Bills offense, which has much less talent and a much worse offensive line, should help. If the Giants defense looks back again this weekend, this defense is going to cause a lot of Monday Hangovers, and I am not talking about the good kind.
The offense was very BLAH outside of Saquon and Evan Engram. This was to be expected against, what will end up being, a Top 5 defensive unit for the Dallas Cowboys. Eli Manning was okay, at best. He is still a bit too risk adverse for my liking, but he did not play badly. The offensive line was a bright spot, in that they did not look terrible. Given what we have seen over the past 8 years, this is an improvement. Especially against a great Front Seven that the Cowboys have.
My biggest issue was the horrific playcalling by Pat Shurmur. If you are going to preach about being a Run-First offense, maybe you should try practicing what you preach. ESPECIALLY, when you have Barkley in the backfield, busting off 50+ yard runs in the first quarter! Shurmur then proceeded to give the ball to Saquon TWICE in the 2nd Quarter. Stay with what works! The offensive line was opening up holes, and this offense needed to protect it's bad defense by controlling the clock. Run the fucking ball if its working Shurm!
Saquon ended up with 120 yards rushing, and had a total of 15 touches. Saquon should NEVER touch the ball less than 20 times a game, and I give ONE shit about game flow. This is the same issue that caused problems in the Eagles game late last year. When Barkley is cookin', keep feeding him! You should most definitely feed him when you are down 28-10, inside the Cowboys 10 yard-line, and run a 3rd and 2 play with Eli Penny and then roll Eli out on a 4th down. That was the game right there and everything that was wrong with Shurmur's play-calling.
As I mentioned before, I am not going to overreact to Game One of a 16-game season. The Giants have some things to clean up, and they ARE fixable (aside from maybe the lack of pass rush). The Buffalo Bills are a way better opponent to match up against. Let's see how they turn things around Week 2.
Good on Ya: Saquon Barkley, Evan Engram, Janoris Jenkins
Thanks For Showing Up: Pass Rush, Deandre Baker, Antoine Bethea
Play of Da Day:
Mr. Glass-Half-Full's Take:
Ran into a buzzsaw Week 1. I am flushing that game down the toilet and we are moving on to Week 2. A lot of green rookies got their feet wet and learned what it takes to get whooped up on in the NFL. Let's hope they all learn from their mistakes and come out angry for the home opener Week 2.
The Buffalo Bill defense will still be a big test for this offense. Stick to the run with Saquon and good things will happen. This Giant offense has the tools to move the ball. I think we will see a much better plan Week 2 if they Offensive Line keeps up what it did last week.
Bettcher has to figure out a way to conjure up a pass rush, because buddy, last week wasn't it. The Bills Offensive Line is a much-lesser opponent. Figure it out and help this secondary gain some confidence by not making them cover dudes for 5+ seconds on each passing play! Josh Allen is erratic and the Giant defense will have a chance or two to turn the ball over. They need to make the plays when the moment presents itself.
Not worried yet folks. The best news coming out of the Cowboys game is that the team stayed healthy. Let's see some progress now and open up at home with a bang. We will talk again next week, and I am thinking we will have a lot more to be happy about Week 2.
Stay Strong,
Mr. Glass-Half-Full