The New York Rangers were expected to have a lot of growing pains through the 2019 season. With a 4-5-1 start to the campaign, the Baby Rangers have had a bumpy start to what was going to be a trying year. Given the odd scheduling (3 games in the first two weeks of the season), and all of the new faces, their early season struggles were hardly surprising.
There were going to be rough stretches and bad games. The Rangers lost five games in a row after opening the season with 2 straight wins. What you wanted to see where the positive flashes. The Rangers beat the Jets, Sabres (yes, the Sabres are actually really freakin' good this year), and the Lightning in exciting fashion.
In yesterday's game against the Tampa Bay Lightning, the Rangers played 7 guys that were 21-years old or younger. That's pretty damn awesome and bodes well for the future. As I said before though, all that youth makes for some inconsistent hockey. Most Ranger fans are okay with losses as long as it is with the Baby Rangers playing.
Which you hate to see the Rangers losing with the likes of Brendan Smith player Top 9 forward minutes and the absolute anchor that is Marc Staal playing big minutes on defense. Thankfully, Coach Quinn might be on to something with Staal, as he healthy scratched his ass for the Tampa Bay gam. Like magic, the defense looked great against a very good Lightning offense.
Ryan Lindgren (called up last night), Libor Hajek, and Brady Skjei manned the left-side of each defensive pairing and did a bang up job. Trouba, Fox and DeAngelo all played solid games and aside from one bad line-change, the Rangers controlled play all game long. The line change WASN'T pretty, but again, these things happen with a young squad that has played a grand total of 10 games or less with each other.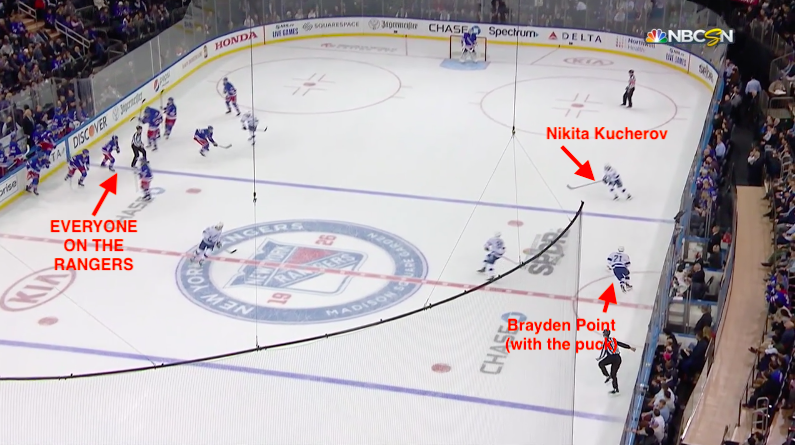 Filip Chytil, who started off down in the AHL, was called up after dominating the lower level. That's what you want to see out of the young kids. Their ability to bounce back when things aren't going right. Chytil came up and immediately contributed with a goal in his first game as the 2C this team desperately has been looking for. Unfortunately, the same couldn't be said for Vitaly Kravstov, who also didn't make the big club, and was having such a rough go of it that he used his European out-clause to ship back to Russia after a miserable start with the Wolf Pack.
I won't get all bent up about this, as Kravstov is only 19, experiencing the US for the first time, and simply could not find his footing here. He got a taste of what it's like to play with the big boys on a smaller North American rink, where everything has to happen faster. He knows what he needs to do now to play in the NHL. The hope is, he goes back to Russia and progresses there and works on the parts of his game that he needs to, and comes back in 2020 hitting the ground running.
The Rangers new acquisitions, Artemi Panarin and Jacob Trouba have been as good as advertised out of the gate. Panarin, aka The Bread Man, has been special. He is driving play, no matter who his linemates are. He has 10 points in 10 games (5 goals, 5 assists), and doing exactly what he as brought here to do, make plays. And BOY does he make plays…..
Trouba is the imposing 1D figure that the Rangers needed. He is physical on the defensive end and has been shutting down opponents, while contributing on the offensive end with his powerful shot. He still has some down moments, like the Bruins game, but his only 25 and still learning.
Some other thoughts on other players:
Mika Zibanejad – Our future captain has been an absolute beast to start 2019. He has 11 points through 9 games and has further cemented his 1C status. No questions that this guy is a leader and one of the best players on this team. He has missed the last two games with an injury, so hopefully he can get back into the lineup soon.
Kaapo Kakko – The #2 pick has struggled out of the gate. As an 18-year old, this is not that surprising. He doesn't look out of place, but you can tell that he is learning and trying to find his way amongst faster and bigger competition. He scored his second goal of the season last night, with a bit of luck, but hopefully that opens up the flood gates for him. Kakko's game will take off once he finds his footing and gains more confidence. He is still getting his shots, so the goals will come. Not worried in the slightest.
Henrik Lundqvist – Bumpy start for Hank. Some of it has to do with some shaky defense ahead of him, while the other part of it is just not-so-great play out of the King. Not enough bad play to panic, but I would like to see him play better as the season wears on. Hank is no longer going to go out and win games for this team on a regular basis, but he is still talented enough to by a solid backstop.
Alexandar Georgiev – Very solid start for Georgiev right out of the gate. He has both a better GAA average and better Save % than Hank right now. Arguably been the team's best goalie. If nothing else, Georgiev is turning himself into a VERY valuable trade chip going forward. With Shestyorkin dominating down on the AHL level, the Rangers are in very good hands with their young goaltenders moving forward.
Mr. Glass-Half-Full's Take:
I still like where this team is headed and I like what I am seeing out of the young talent on this squad. Buchnevich, Strome, DeAngelo, and Adam Fox are another couple of youngsters that I didn't mention earlier, but are still having solid starts to theirs 2019 seasons. Things are progressing in the right direction with most players, and that is what you like to see with so many Youts on this squad.
With a normalized schedule coming up, and some easier opponents, look for this team to find its footing and start making their way up the standings. This season shouldn't be about wins and losses, but about development. Having said that, it wouldn't hurt to see this team develop while stacking a few W's together and make this an interesting season.
Quinn has taken some heat for some of his lineup decisions and comments on the team's play, but I still have faith in Coach. When this team skates and grinds along the boards, they can play with just about any team in the league. The talent is there. Let's hope we keep growing.
Late,
Mr. Glass-Half-Full
LGR