The New York Giants are a 45 minute team. For those that are counting at home, NFL Football is played in four 15-minute quarters. The Giants, can't seem to figure out how to play a full 60-minute game.
In Week 2, it was the 2nd Quarter where the Bills put up 14 points to the Giants 0, which sealed the game. In Week 6, the Giants went toe-to-toe with the Pats for 3 quarters before it all blew up in their faces in the 4th Quarter (Pats scored a defensive TD & a late one to win 35-14). Week 7, the Cardinals came all the way across the company and got out to a 14-0 lead in the 1st Quarter (Giants lost 27-21). Week 8 provided the same result, as the Lions jumped out to a 14-0 lead in the 1st Quarter (Giants lost 31-26).
In Week 9, against the division-leading Cowboys, the Giants were in this game heading into the 4th Quarter. As is tradition with this team, they keep finding ways to lose. The roof caved in for our beloved GMen, and the Cowboys ended up winning by a final score of 37-18. Are you sensing a common theme here?
During my freshman year in high school, we had a pretty good freshman basketball team. Our team was good enough to play in that season's version of a playoff, but the team was stumbling towards the finish line and we lost several games at the end of the season, including a brutal loss in the playoffs. Our coach at the time, good ol' JT Turner, said something that stuck with me after that playoff loss on the bus. He said, in only the way JT could say it, "Losing is contagious. You can't let this loss define the rest of the season, because it will fuck up everything good that we have done". I may or may not have made up the second part to that quote, but the gist was, that losing is contagious and will permeate throughout the team and organization if it becomes the status quo.
That is what is going on with the Giants organization right now. There is a loser mentality permeating throughout this entire franchise, and they keep finding different ways to lose, in the same way teams like the Patriots keep finding different ways to win. It is not one player, not one unit, not one coach that is the same reason for each loss. It is a collective failure and until the Giants can start stacking some wins together and gaining some sort of confidence, it will continue to plague this franchise.
Not going to bore you with details about the game, because if we are being honest, there is not much to talk about. The offense stunk, from Jones and Barkley, to the offensive line and receivers not being able to separate from the defenders. Shurmur's play-calling was horrific, and turned around what was a 12-3 Giant lead late in the 2nd Quarter into a 13-12 Cowboy lead at the Half. The defense also stunk, getting no pressure and not being able to stop Zeke, who ran for, and I quote, "The easiest 140 yards I have ever gained". The defense and James Bettcher put up yet another shameful performance.
For me, it all starts there. Being in the stadium on Monday night, you could feel the absolute lack of energy. Part of that was because the crowd was comprised of, what felt like, 50% Cowboy fans. The other part was the total lack of faith and energy behind a defense that you just knew was not going to be able to stop the Cowboys from doing whatever they wanted. You just knew the Cowboys were going to convert any big 3rd down or must-have play. For the once proud New York Giant defense, it has been this was for the better part of the decade.
If this team ever wants to get back to relevancy, Dave Gettleman and Co. need to pour ALL of the resources (save for a big-time WR and 2-3 Offensive Lineman), into fixing this defense once and for all. We've had enough of this bullshit. Year after year of bottom 5 defenses is not going to fucking cut it. Figure it out.
As for the GIFs for Monday's Game, as I said, there was no real positives or distinct negatives to take away from the game. I feel that one GIF can sum up all of our feelings. An oldie, but a goodie.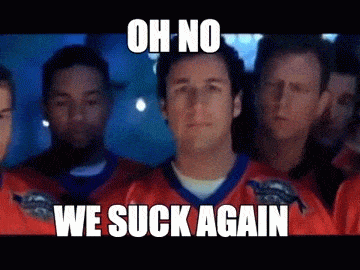 Mr. Glass-Half-Full's Take:
Not a ton of positive vibes going on right now. I didn't think I would be saying this as of a couple of weeks ago, but I truly feel that Pat Shurmur is coaching for his job this weekend. In what used to be an exciting game for New York fans, the Giants vs Jets game has turned into the Poopy Bowl.
If Shurmur and the Giants lose to an inept Jets team, that also has a coach that is coaching for this job this weekend, that might be the death knell for Shurmur. This team simply cannot afford to lose to a badly injured and undermanned Jets squad that seems to be playing out the string of games at this point. The Jets stink on offense and defense, worse than the Giants.
If Shumur and Bettcher can't figure this one out, heading into the Week 11 Bye, they should rightfully be given their pink slips. No more excuses. This team needs to finish strong and still has a chance to feel good about something heading into their Bye if they can soundly beat up on their co-tenant in Shitlife Stadium. I haven't seen signs of quit in this team yet, but if they want to keep playing under Shurmur and Bettcher, they need to make a statement starting Sunday.
Also, stop fumbling the ball Daniel. Cut that shit out already and hold that motherfucker as tight as you can when you got other players around you. Everything else, I am please with in your progression, but the fumbling needs to stop now.
Love and Respect,
Mr. Glass-Half-Full
Go Big Blue?