At the beginning of this year, I urged all Giant fans to be patient with this team. What I wanted to see was progress. I wanted to start seeing Pat Shurmur's stamp put on to this Giants team and see some tangible positives heading into 2020. I wasn't asking for a lot people. Now, I have lost my patience.
I (foolishly) predicted that if the Giants could just win over 5 games this season, and Daniel Jones showed merely a couple of positive flashes, that Pat Shurmur was a lock to come back in 2020. This was always going to be a transition year and the Giants weren't realistically expected to make the playoffs with such a bad defense. Shurm was a likable guy, and I think most Giant fans were rooting for him to succeed and be THE guy.
Well, since evening their record up at 2-2, with Daniel Jones flying high through his first two starts, the Giants have subsequently lost seven straight games to drop to 2-9. For the first time in TEAM HISTORY, the Giants did not win a game in October or November. My friends, the Giants have a very LONG, and storied history. That is not a record you want to break Shurm.
In Week 12, the Giants were coming off of their Bye against a WEAK Bears team. Matt Nagy's team has been in the running for one of the most disappointing teams in the NFL through 11 weeks. The Giants were coming off of an embarrassing loss to the one-win New York Jets in Week 10. Mitch Trubiski flat-out STINKS. This was NOT a bad spot to get a big win.
Did Shurmur bother switching things up? Hell no. Did he make any major lineup changes with his coaching seat heating up? Nahhhh, just gotta execute better, right Patty? I have never watched such an uninspiring, unemotional football coach in my life.
Sure, the guys still "play hard" for Shumur. Yes, this team is still in the bottom third of the league in terms of talent. However, we are seeing the same undisciplined team, making mental mistakes left and right. Finding ways to lose each week, some new, some old. We still see a total lack of creativity in Shurmur's offense that NEVER seems to out-scheme the opposing team's defensive coordinator. More of the same with bad timeouts and mismanaging the game, constantly putting his team behind the eight ball. Shurmur never puts this team in position to win football games and, more often than not, is one of the main reasons for losses.
Personally, I have seen enough. I have seen enough to know that Pat Shurmur ain't it. 7-20 as a New York Giant head coach, and 17-43 for his career. I am calling a spade a spade here. I wanted Pat to be the guy, I really did. All he had to do was show a BIT of progress and not fall flat on his face. Alas, this team has regressed in almost every facet and this motherfucker did a belly-flop from the top of Metlife.
The Giants are 1-4 in one possession games. They have lost countless others with the game within one possession late in the 2nd Half before the opposing team pulls away in the 4th Quarter. Pat Shumur and the New York Giants do not know what it takes to win. John Mara will let him play out the string of games in 2019 and the Giants will, most likely, be moving on to their third coach in five years. This used to be a franchise that was once lauded for their patience with coaches. Oh, how the mighty have fallen.
Dave Gettleman's 2018 Draft Class also regressed on every level. I still believe in his drafting ability, but it has now gotten to the point where this 2020 Draft will be a make or break draft for him and his future. We might be seeing a Sam Hinkie situation play out all over again, where Dave Gettleman might not make it to the other side of this rebuild/process. The seat is certainly getting hotter. Not many GM's make it to a 2nd coaching hire in 3 years and live to tell about it.
And we're GIF'ing:
Daniel Jones
Saquon Barkley
Darius Slayton and Golden Tate
Aldrick Rosas' Season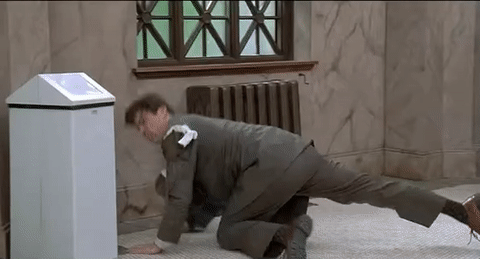 Mr. Glass-Half-Full's Take:
Listen, I was under no illusions that this was going to be a playoff team. The defense was never going to be strong enough. The offense needed everything to go right (has anything gone right outside of Jones and Tate?). What I did want to see was a Pat Shurmur-led-offense look competent. We never got that. I wanted to see last year's rookie class progress. None of them did.
So here we sit, at 2-9, currently holding the #2 draft pick in a BIG 2020 NFL Draft. The #Chase4Chase is ON. Chase Young is a dynamic Defensive End for the Ohio State Buckeyes that is the best player in the 2020 NFL Draft and a certified stud pass-rusher that the New York Giant franchise desperately covets. The New York Giants won 4 Super Bowls because of their defense. This franchise is lost and needs to get back to it's roots.
I am not saying I am cheering for losses either. I AM saying that this team hasn't had a pass rusher like Young since Michael Strahan retired. I AM saying that the organization most definitely needs another huge draft to launch itself into relevance, having the QB position already set for the near future (keep doin' you DJ; no line, no running game, receiving weapons in an out of the lineup, and this kid keeps ballin').
Shut Barkley down, as he is only causing himself and the team harm by playing hurt at the moment. His fight is admirable, but the young man is clearly lacking confidence right now (KILLER drop early in the Bears game that could have turned into a monster play). The big plays aren't there and this team isn't going anywhere. I hate shutting down players early, but for the RB position, in a lost season, with Barkley playing like he is, it no longer makes short-term or long-term sense to play him.
Green Bay comes into town this week where Aaron Rodgers gets to feast on this secondary, now without one of it's better players in Jabrill Peppers (done for the season with a hip injury; seen enough good things out of him this year to feel good about him in 2020 if you put someone other than the corps that is Bethea next to him). This is a good test for Deandre Baker, Corey Ballentine, and Sam Beal, who each need all of these snaps to show that they can be the answer at CB going into next year.
Its evaluation time for these young players. Who wants to be part of the solution going forward? Who is going to show the effort through another lost season and be a part of the eventual turnaround? We are going to find out over these last five weeks.
Take it Easy,
Mr. Glass-Half-Full
Go Big Blue
P.S. If I hear one more rumor about Jason Garrett being looked at by the New York Giants, after his colossal flop-job this year with a Top 5 roster in Dallas, I will lose my shit. This can't be true. I refuse to believe Mara is THAT dumb.